AEW Dynamite (05/24/2023) – Full Coverage and Results!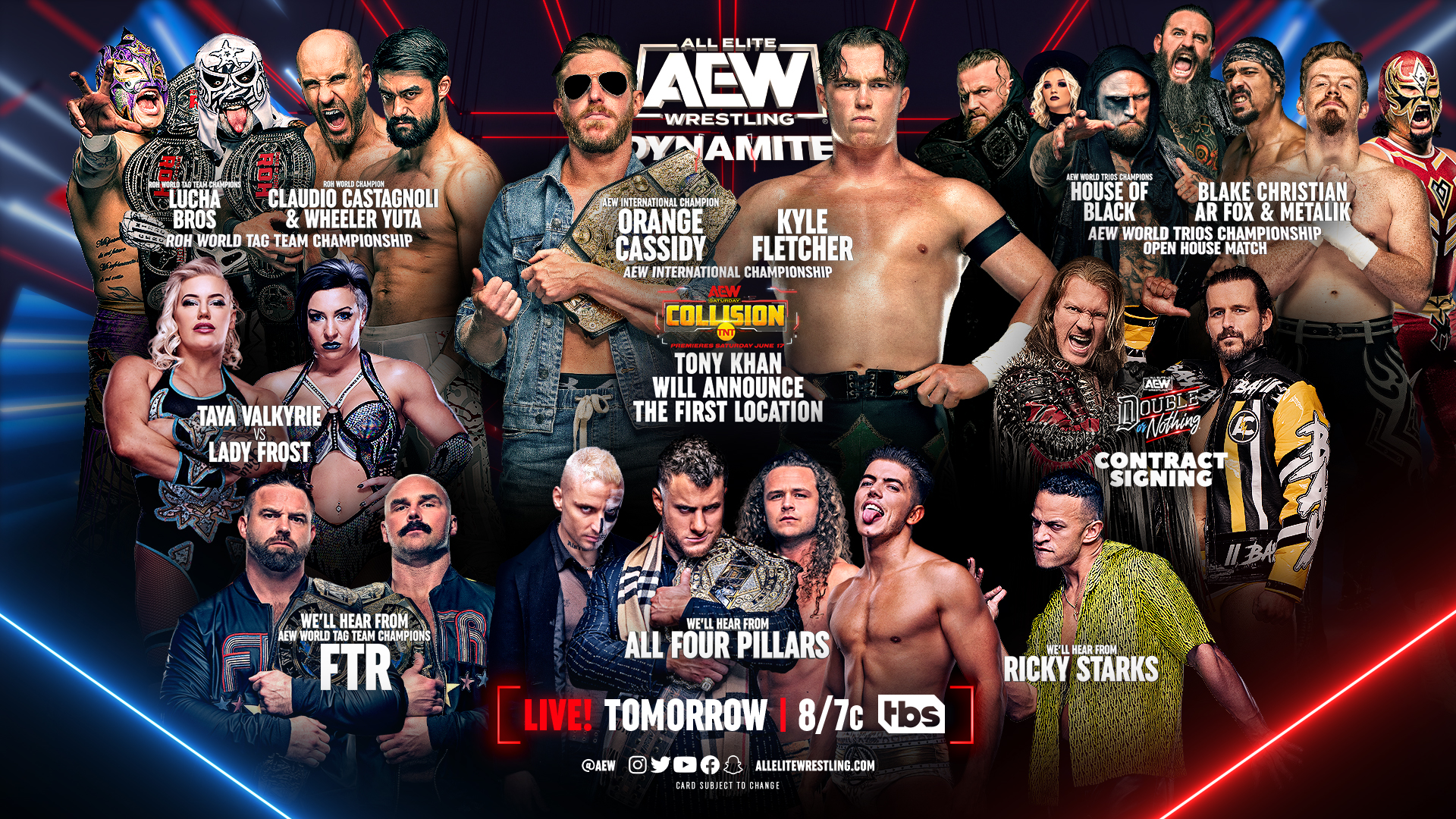 On Wednesday night, AEW and TBS will air another episode of AEW Dynamite from the MGM Grand Garden Arena in Las Vegas, Nevada.
The highlight is Kyle Fletcher challenging Orange Cassidy for the AEW International Championship. The Lucha Brothers will defend their ROH World Tag Team Titles against Blackpool Combat Club, and the trio of AR Fox, Blake Christian and Metalik will challenge House of Black for the AEW World Trios Championship.
See all this and much more today, starting at 8 pm, in real-time coverage of Wrestling Mania.
Coverage:
AEW International Championship Match: Orange Cassidy (c) vs. Kyle Fletcher
– Cassidy rola Fletcher para a vitória.
In a backstage segment, Ricky Starks addresses recent speculation surrounding his actions, asserting that he acted with control rather than mere emotion. Expressing frustration, he emphasizes having nothing to lose. However, the situation takes an unexpected turn as Juice Robinson and Jay White ambush Starks from behind, leaving him laid out.
Another backstage interview features Jack Perry, who reflects on his frequent trips to Las Vegas. While acknowledging the ever-changing nature of these journeys, Perry highlights the constant feeling he experiences when standing inside the wrestling ring. This sense of purpose fuels his desire to embody the person he aspires to be, and he boldly declares his intention to become the AEW World Champion on Monday.
Entering the ring, FTR takes the microphone, with Cash Wheeler acknowledging that it would be simplistic to dismiss Jeff Jarrett as "trash." He acknowledges Jarrett's ability to outsmart them at every turn but believes that luck will run out for him on Sunday. Dax Harwood asserts that a few guitars won't impede their progress and declares that attaching their names to the best team in the world today helps them remain relevant. Harwood dismisses the notion that the head of the tag team division will be comprised of TNA rejects, suggesting that perhaps Jarrett should contact Dixie Carter to ensure job security.
However, Jarrett's crew abruptly interrupts FTR's speech. Briscoe forcefully shoves Karen aside and slaps Jeff Jarrett himself, expressing frustration with the ongoing situation. Even Jay Lethal, whom he considers a friend, gets pushed as tensions escalate.
Mark Briscoe appears on the scene, and Wheeler urges him not to let Jarrett make him look foolish. Briscoe, acknowledging their brotherhood, questions the piledriver incident, and Harwood claims he couldn't see what happened. Attempting to reconcile, Harwood extends his hand, but Briscoe slaps it away and retaliates with a slap to Harwood's face, further igniting their animosity.
Switching backstage once again, Sammy Guevara is interviewed by Renee Paquette, who reminds him of MJF's offer to surrender the match and lay down for a significant sum of money. Guevara acknowledges the tempting offer but asserts that he will not sacrifice his integrity. Instead, he vows to dethrone MJF and capture the title for himself.
AEW World Trios Championship Match: House Of Black (c) vs. AR Fox, Metalik, & Blake Christian
– Christian applied a submission on Fox, forcing him to tap out.
Backstage, Blackpool Combat Club expresses their determination to achieve two significant objectives. Firstly, they are focused on claiming the tag team titles tonight. Their confidence is evident as they assert their intention to seize the gold.
In addition to their pursuit of tag team success, Blackpool Combat Club aims to bring an end to The Elite's dominance. They view this Sunday's match as an opportunity to challenge and potentially dismantle The Elite, further solidifying their position in the pro wrestling landscape.
Jon Moxley, a prominent member of Blackpool Combat Club, declares their collective belief in being the best in the world. His unwavering conviction underlines their confidence and sets a high standard for themselves.
Making his way down to the ring, MJF wastes no time in creating a stir by throwing Tony Schiavone's drink all over him. Taking shots at his opponents, he emphasizes the significance of Sunday's upcoming match. MJF dismisses the notion of being labeled as "homegrown," asserting that their success in the industry was not reliant on prior national television exposure.
Claiming to have defeated the best and delivered memorable moments throughout AEW's history, MJF boldly proclaims that they are not just a part of AEW, but rather embody the essence of the promotion itself. However, he expresses his growing dissatisfaction with the lack of competition and the perceived lack of respect from the fans. Pointing out the upcoming match where he doesn't even need to be pinned, MJF hints at the potential of leaving AEW, leveraging his contract status.
MJF asserts that he might "take his ball and go home" because he believes he has earned the right to make such a decision. He predicts that come Sunday, people will realize his opponents possess talent but are not on par with his own devilish prowess. Just as tension escalates, Darby Allin interrupts and shares his personal journey, mentioning his humble beginnings and the significance of his wrestling career, which saved his sanity. Allin highlights the unique opportunities provided by AEW, such as skateboarding with Tony Hawk and his future aspirations of conquering Mount Everest.
Expressing his desire to become the face of AEW, Allin states that he needs to capture the World Championship to achieve that goal. With a playful nod to the possibility of using a headlock takeover, MJF responds with a low blow before being chased away by Sammy Guevara. However, Jungle Boy enters the scene and delivers a powerful statement by dropping MJF on the ramp, striking a pose with the championship belt.
Singles Match: Taya Valkyrie vs. Lady Frost
– Valkyrie hits the 'Road To Valhalla' for the win. 
In a backstage scene, Tony Khan announces that the debut episode of AEW Collision will be held at the United Center in Chicago.
Meanwhile, Adam Page expresses uncertainty about his friendship with Kenny Omega, but emphasizes their deeper connection as a family. Page asserts the importance of family sticking together, leading to an upcoming event called "Anarchy in the Arena" where BCC is expected to face severe consequences.
Adam Cole arrives alongside Roderick Strong, Chris Jericho with the JAS members. Tony Schiavone conducts the contract signing and expresses gratitude for the agreement of no physical contact at this moment. Upon signing the contract, both parties acknowledge that AEW will not be held responsible for what occurs in their matchup at Double or Nothing. Cole expresses his confusion regarding Jericho's actions, questioning why he allowed Britt Baker to be assaulted while he was restrained. He speculates that it might be because Jericho is a terrible person or simply believes he is invincible and can do whatever he wants. Cole warns Jericho that he will find out just how invincible he truly is when he beats him down. Despite his urge to attack Jericho, Cole refrains from doing so, instead describing the brutal consequences awaiting him on Sunday. Cole predicts that Jericho's legs will be broken, his jaw shattered, and his hands crushed. Jericho retorts, emphasizing the incident involving Baker and Cole, highlighting the fact that he allowed his loved one to be destroyed right in front of him. Cole grows angry, but Strong intervenes, preventing an altercation. Jericho taunts Cole, calling him a coward and declaring that he cannot defeat "The Ocho." Jericho signs the contract, confident that he won't be defeated because they are five against Cole.
Before signing, Jericho recalls the events of the attack on Baker and Cole. He questions what kind of man would allow his loved one to be brutally beaten just inches away from him. Cole becomes furious, but Strong holds him back to avoid an immediate confrontation. Jericho continues to taunt Cole, asserting that he will make him eat his teeth on Sunday and claiming that he cannot defeat "The Ocho." Jericho signs the contract, convinced that he won't be defeated as they have five members compared to Cole and Strong's two.
Adam Cole reveals that he made some calls to bring in people even crazier than the JAS. Sabu joins Adam Cole, throwing a chair at Daddy Magic, causing the JAS to flee the ring.
Singles Match: Roderick Strong vs. Daniel Garcia
– Strong hits the 'End of Heartache' for the win.
Video footage showcases Willow Nightingale's triumph over Mercedes Mone, marking her historic achievement as the inaugural Women's Champion of NJPW Strong.
ROH World Tag Team Championship: Lucha Brothers (c) vs. Claudio Castagnoli & Wheeler Yuta
– Penta hits the 'Fear Factor' followed by a pinfall to win.
Post-match, The Jacksons manage to escape through the crowd as Jon Moxley and Bryan Danielson give chase. Moxley addresses them, urging them to enjoy their time while they still can, emphasizing the upcoming match, Anarchy in the Arena, will be the epitome of violence and bloodshed. He assures that their pursuit of extreme intensity will continue, warning the opponents that they haven't witnessed anything yet.
To stay on top of everything that goes on in the world of Pro Wrestling, follow Wrestling Mania on social media and don't miss a thing. Twitter and Google News.