IMPACT! (02/02/2023) – Closer and closer!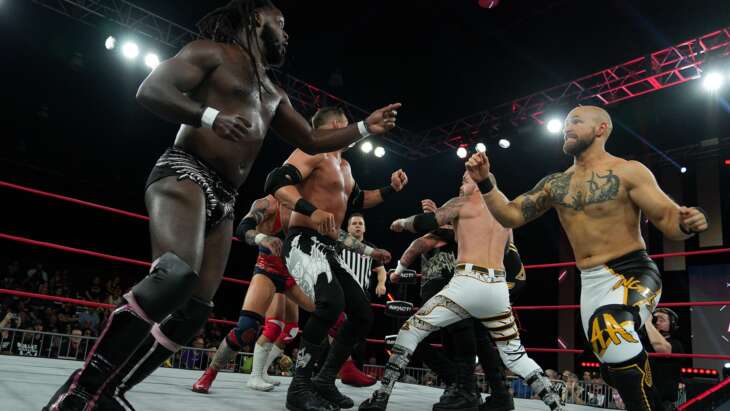 This Thursday night, AXS TV will broadcast another unprecedented episode of IMPACT Wrestling directly from Osceola Heritage Park in Kissimmee, Florida.
Check out the highlights from IMPACT Wrestling for tonight's show below:
The group of IMPACT World Champion Josh Alexander, Frankie Kazarian, Rich Swann and Yuya Uemura will clash with The Design and Callihan!
Two winning duos from last week will collide today: Ace Austin and Chris Bey, the Bullet Club, against Kevin Knight and KUSHIDA!
Gisele Shaw wants to regain her best form in the women's division and will clash with the dangerous Savannah Evans!
Crazzy Steve is still hunting Trey Miguel, but first he will face Sheldon Jean!
See all this and much more, today, starting at 8 pm, in Wrestling Mania's real-time coverage.
Live Coverage:
The show opens with Tom Hannifan and Matthew Rehwoldt welcoming the audience.
Tag Team Match: Bullet Club (Ace Austin &Chris Bey) vs. Kevin Knight and KUSHIDA
– Bey and Austin won with an "Art of Finesse/The Fold Combo" on Knight.
The Design meets backstage. Deaner tells Callihan that he was about to get the opportunity last week, but he failed and there were consequences. He offers an opportunity to redeem himself tonight.
IMPACT Wrestling confirms that Steph De Lander will debut next week.
Singles Match: Gisele Shaw (w/ Jai Vidal) vs. Savannah Evans
– After a distraction from Jai Vidal, Shaw won with a "Knee Strike".
After the match, Shaw takes a microphone. She brings up how people refer to her as the Black Widow of IMPACT because she destroys every team she touches. She accepts that she is now Black Widow. Shaw takes credit for Tasha Steelz, The Influence and Chelsea Green leaving because of her.
Backstage, Kenny King finds a couple talking about Rich Swann. He steals the popcorn and says they better not talk about anyone else when he walks by. King moves forward and bumps into Johnny Swinger and Zicky Dice. King dismisses them, as Dice challenges him to a fight.
Elsewhere, Santino Marella scores King vs. Swingers for next week. Steve Maclin walks up and complains about not being the number one contender for the World Title, but Rich Swann is. Marella announces that four singles matches will be held to determine who will compete in a four-man No Surrender match. Dirty Dango confirms that he is in one of the fights.
Singles Match: Crazzy Steve (w/ Black Taurus) vs. Sheldon Jean
– Steve won with a "DDT".
Afterwards, Trey Miguel attacks Taurus and Steve. He has a bottle of spray paint in his hand, but Steve bites his hand and steals the bottle. Steve sprays himself green paint like he did last week as Trey walks up the ramp.
Backstage, Gia Miller interviews Jordynne Grace. Grace says people can go back and judge whether or not Mickie dropped out of Hard to Kill. Grace has a rematch on her hands, but in the meantime, Grace challenges Steph De Lander to face her next week.
Santino Marella finds Raven in the locker room. Marella asks for advice. Raven says that if Santino wants to make money, he must make Raven the world champion.
Bully Ray arrives to address the crowd. Fans chant "You gave up" before he speaks, and then he is booed. Bully says he's starting to feel like nobody around here likes him, including fighters and fans. Bully says the new manager clearly doesn't like him because he wasn't invited to last week's Golden Six Shooter. Bully says he remembers what happened to the last guy who was in charge. Bully claims that Tommy Dreamer was the one who lied to the fans all these years. Bully calls Dreamer the biggest imposter this business has ever seen.
Mickie James interrupts and says he wants to return the favor by interrupting his promo. She says he fights no matter where he goes. Mickie says Bully is the snake around here, not Dreamer. Mickie tells him to get the hell out of IMPACT. Bully tells her to wipe the smile off her face because he is going to hit her. Bully says he's going to hit her again and that he's done worse to better women in business. Bully calls her a slut, which prompts Mickie to put his title down and slap him across the face.
Bully picks Mickie up and throws her to the ground. He grabs her hair and prepares to hit her as The Good Hands (Jason Hotch and John Skyler) slide a table into the ring. Dreamer comes running with a stick to defend. Dreamer says this will resolve itself sooner or later. Dreamer challenges Hotch and Skyler to face him and Mickie now. Santino arrives and announces that the match will take place next week with Bully Ray banned from ringside.
Killer Kelly cuts a promo, saying it looks like Taylor Wilde is obsessed with her. Wilde interrupts and says her card said they would be side by side in the ring together, not opposite each other. The Death Dollz suddenly transport. Rosemary responds and accepts a tag team challenge for the next week.
Singles Match: Johnny Swinger (w/ Zicky Dice) vs. Kenny King
– King won with a "Royal Flush".
King takes a microphone. He says the first reason he came was to beat up that old man. The second reason was to warn the IMPACT champions. Although he failed the Pit Fight last week, he wants another one.
Backstage, Bully Ray confronts Masha Slamovich. Bully awkwardly says it's nice to meet her. Bully says if he were Mickie he wouldn't be sleeping at night because of Masha. Bully continues to praise Masha as he wants her to beat her at No Surrender. Masha responds in Russian before walking away. Bully finishes with "Oh, Masha" while leaning against the wall.
Matt Cardona brings together a bunch of talent behind the scenes to reveal his diss track to Joe Hendry. Hendry will defend the Digital Media Title against Cardona next week. Several more fights are announced for the coming week, including two qualifying matches for No Surrender: Dirty Dango vs. Brian Myers and PCO vs. Shera.
8-Man Tag Team Match: IMPACT World Champion Josh Alexander, Frankie Kazarian, Rich Swann and Yuya Uemura vs. Callihan and The Design (Angels, Deaner & Kon)
– Callihan's group won with a "Cactus Driver 97" on Uemura.
End of show.
To stay on top of everything that goes on in the world of Pro Wrestling, follow Wrestling Mania on social media and don't miss a thing. Twitter and Google News.