Coverage: IMPACT! (04/06/2023)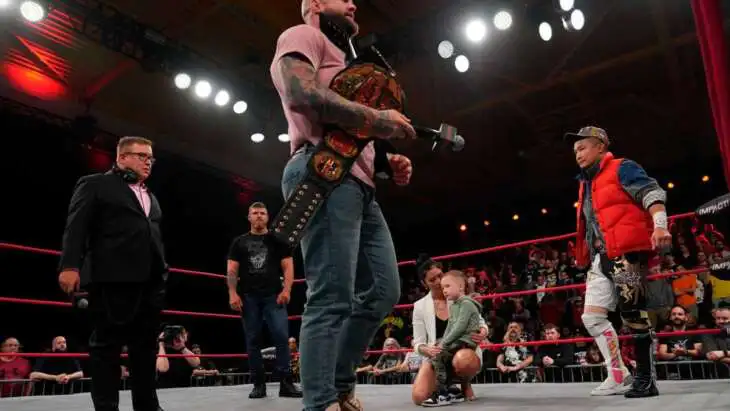 This Thursday night, AXS TV will broadcast another brand new episode of IMPACT!, direct from the St. Clair College in Windsor, Canada.
Check out the highlights from IMPACT Wrestling for tonight's show below:
In the main event of the night, Bully Ray and the Good Hands will take on Tommy Dreamer, Yuyu Uemura and Darren McCarty in a tag team match!
Eddie Edwards will face none other than the psychopath PCO!
Jonatham Gresham will measure forces against Mike Bailey!
On the doubles ward, the Motor City Machine Guns will face off against TMDK!
Canadian Jody Threat will make her in-ring debut tonight!
See all of this and more today starting at 8 pm on Wrestling Mania's live coverage.
Coverage:
Tag Team Match: Motor City Machine Guns vs. TMDK
– Shelley won the match with a crucifix.
Backstage, The Guns bump into Bullet Club, hinting at another shot at the titles. Sabin reveals they have a rematch and proposes turning it into an Ultimate X match for higher stakes.
In the locker room, Edwards talks to King, wanting to confirm that King will support him against PCO. However, King sarcastically declines, still upset about the events at Sacrifice.
Elsewhere backstage, Dreamer approaches Scott D'Amore, expressing his desire to have D'Amore on his team at Rebellion. Despite D'Amore claiming he's beyond his wrestling days, Dreamer keeps pitching the idea.
Contender's Match: Jonathan Gresham vs. Mike Bailey
– After Trey's involvement, the match ended in a No Contest.
The Design members are having a conversation on the stairs, where Deaner expresses surprise that Sami has made it this far. Sami reveals he's ready for Step 7, which involves learning to eliminate all other authority in his life.
Meanwhile, Bailey and Gresham are arguing with Santino when Trey approaches. Santino decides to book a three-way elimination match for Rebellion.
Singles Match: Jody Threat vs. Tara Rising
– Jody won the match after applying an F416.
Dango and medics attend to Santino when D'Amore approaches. Dango claims The Design is responsible, and though he thinks he's in charge now, D'Amore is skeptical. Dango demands a match against The Design, and Santino sees it as a chance to educate his son at Rebellion. A match is booked for Rebellion: Santino, Dango, and Hendry versus The Design.
Tasha Steelz is interviewed by Gia Miller, sharing that she went home to find herself. Gisele Shaw and her associates quickly interrupt the conversation. Steelz asserts she has no issue taking on Gisele next week, but Gisele believes Tasha may have bitten off more than she can chew.
Tag Team Match: Bully Ray & Good Hands vs. Dreamer, Uemura & McCarty
– McCarty applied a Stunner on Skyler and won the match.
Kenny King rushes in to support the heels, followed by Masha Slamovich. Killer Kelly and Kazarian also enter the fray to even the odds, with the sides clearly marked.
A detailed retrospective of Josh Alexander's impressive world title reign is shown, and congratulations are extended to Jordynne Grace for her victory in a body-building competition.
Following a recap of Deonna Purrazzo's four-way triumph at Multiverse United, Deonna reflects on the roller coaster of the past 18 months. She's experienced highs and lows, from being a world champion to a tag champion with her best friend, and then losing it all. She asserts that she established the age of the Virtuosa upon her arrival. Although she wasn't initially prepared for a title match at Rebellion, she now feels ready. Deonna points out that Jordynne has never defeated her, and she hasn't beaten Mickie either. She confidently claims she will become a three-time champion.
Singles Match: Eddie Edwards vs. PCO
– After receiving help from Alisha Edwards, Eddie Edwards applied the Boston Knee Party followed by the pinfall to win.
After the match, PCO pursues couple out of the arena. The chase continues backstage and outside the venue, PCO remains relentless. Eventually, Eddie and Alisha manage to escape by driving away quickly from the parking lot in their car.
Scott D'Amore currently stands in the ring alongside Kushida and Steve Maclin, announcing that a new world champion will be crowned at Rebellion. He welcomes Josh Alexander, who arrives with his wife and son to a standing ovation.
Josh thanks the audience and shares his journey to the top of Impact. He recalls signing his first Impact contract and becoming the longest-reigning Impact World Champion. The crowd chants "best world champ." Unfortunately, due to a torn tricep, he is out indefinitely and will return to being a fan like his son. He plans to watch Rebellion to see the new champion crowned.
Josh praises Kushida as a ruthless wrestler who can make Maclin tap out. He acknowledges Maclin's title shot but wishes it were against him. He warns both of them that he'll come back to reclaim the title if they hold it long enough. The crowd chants "Thank you Josh" as Josh's son briefly holds the title before Josh hands it to Scott.
Maclin interrupts, demanding the title from Scott, claiming this is Josh's way out. Scott becomes angry, accusing Maclin of cowardice and reminding everyone that Kushida made Maclin tap out weeks ago. Maclin refuses to put his pride on the line in a meaningless match. As Maclin declares himself the next champion, Kushida confronts him and drops him with a Hoverboard Lock. Kushida dives onto Maclin, who attempted to escape with the title, and raises the title in the ring.
End of the show
To stay on top of everything that goes on in the world of Pro Wrestling, follow Wrestling Mania on social media and don't miss a thing. Twitter and Google News.