IMPACT! (05/04/2023) – Full Coverage and Results!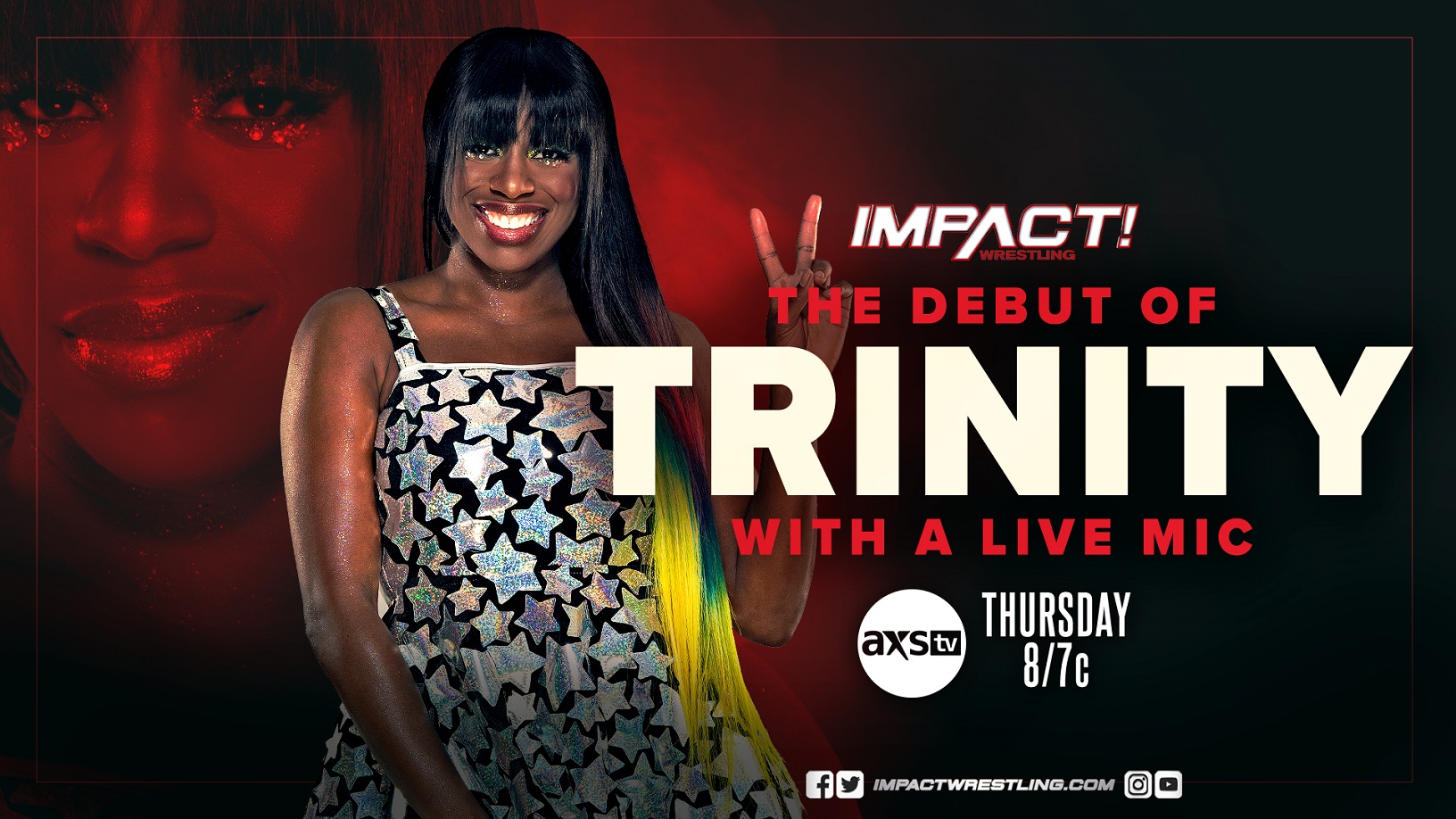 This Thursday night, AXS TV will broadcast another unprecedented episode of IMPACT Wrestling directly from Cicero Stadium in Chicago, Illinois.
The highlight of the show is Trinity Fatu's IMPACT Wrestling debut. PCO and two partners will face Steve Maclin, Champagne Singh and Mahabali Shera, and Jonathan Gresham will clash with "Speedball" Mike Bailey.
See all this and much more, today, starting at 8 pm, on Wrestling Mania's real-time coverage.
Coverage:
Tag Team Match: Moose & Myers vs. Uemura & Gujjar
– Moose spears Gujjar for the win.
In the locker room, Gia Miller conducts an interview with Maclin, Shera, and Singh. The scene transitions to Dirty Dango's investigation room, where Joe Hendry enters sporting a pair of black eyes. He insinuates that Trey Miguel may be responsible for attacking Santino.
Subsequently, Sami Callihan makes an appearance, followed by The Design. Deaner accuses Sami of making a grave error when he struck him in the face with a bat. He goes on to state that Sami accepted a challenge to face off against Kon. The Design members then overwhelm Sami before the other two depart.
Singles Match: Kon vs. Sami Callihan
– Some men in yellow hoods attacked Sami. The match ended in no contest.
Backstage, Trey finds himself interrogated by Dango and Hendry. In a separate segment, Jimmy Jacobs questions Nick Aldis once more about his feelings following his recent return. Aldis emphasizes his original intention to compete for the world title, insisting he never anticipated being granted a title shot outright. He is determined to prove his worth from scratch.
Kenny King intervenes, hinting at a potential match. He asserts that Aldis must climb the ranks before facing him in the ring.
Singles Match: Alisha Edwards vs. Jody Threat
– Jody won with the F416.
Backstage, Gia speaks with MCMG members. Sabin shares his ambition to capture his ninth X-Division title at Under Siege, while Shelley reveals his desire to pursue his inaugural world championship.
In the second part of the interview series, Frankie Kazarian discusses his journey through ROH and eventually AEW. However, he chose to take a risk on himself instead of settling for complacency, ultimately returning to the place where his legacy resides.
6-Man Tag Team Match: Steve Maclin, Champagne Singh & Shera vs. PCO, Heath & Rhino
– PCO hits the PCOsault for the win.
A vignette featuring The Coven is shown, suggesting Deonna and Jordynne have caught their attention.
Jessicka persuades Rosemary to bring in Father James Mitchell, prompting her to venture into the undead realm alongside him. Jessicka is left with an hourglass to indicate when Rosemary will make her return.
Singles Match: Jonathan Gresham vs. Mike Bailey
– Gresham applies the Octopus Stretch for the win.
Backstage, Callihan addresses the camera when Rich Swann interjects. They engage in a heated exchange, with Swann accusing Sami of constantly instigating chaotic battles and then seeking assistance. Sami dismisses the lecture, inquiring if Rich will support him or not.
In a previous encounter, Maclin confronted D'Amore regarding Rhino's actions. Consequently, D'Amore scheduled a singles match between the two for next week.
The following bouts are slated for next week:
Steve Maclin vs. Rhino
Part 3 of Frankie Kazarian's interview
Nick Aldis vs. Sheldon Jean
Killer Kelly vs. Masha Slamovich
Knockouts Tag Titles: The Coven (c) vs. Purrazzo & Grace
Trinity makes her much-anticipated return, receiving an enthusiastic response from the Chicago audience. The crowd's "welcome back" chants elicit an emotional reaction from her. Trinity expresses her excitement about being back in the ring and competing in the Knockouts division, known for its fierce competition. She cites notable wrestlers like Awesome Kong, Gail Kim, Mickie James, Deonna Purrazzo, and Jordynne Grace, stating her intention to capture more gold and shine in the division.
Purrazzo enters the ring, welcoming Trinity to Impact and acknowledging that Trinity mentioned her name and title. Deonna informs Trinity that she's entering the new age of The Virtuosa, and warns her that she won't easily walk away from a match with her. Trinity retorts that Deonna will regret not being fired once they face off in the ring.
Jordynne Grace interjects, pointing out the intense atmosphere in the ring. She claims that Trinity will need to come to her for a title shot, as she intends to win it at Under Siege. Trinity puts both Deonna and Jordynne on notice, while the two wrestlers engage in a tense staredown in the ring. Trinity concludes by dancing on the ramp.
End of show!
To stay on top of everything that goes on in the world of Pro Wrestling, follow Wrestling Mania on social media and don't miss a thing. Twitter and Google News.