Triple H comments on The Rock's possible appearance at WWE WrestleMania 39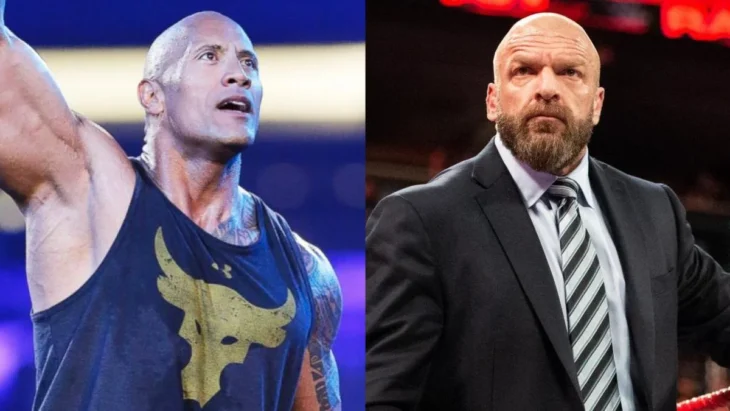 WWE Chief Content Officer Triple H addressed The Rock's status for WrestleMania 39.
Ahead of the 2023 Royal Rumble, there was a lot of uncertainty surrounding The Rock's status for the April 1-2 event.
While some speculated that the "Great One" would win the Royal Rumble and face Roman Reigns at WrestleMania, The Rock ended up not competing at the Rumble.
During the post-show press conference, Triple H spoke about the relationship between WWE and The Rock.
Also poking fun at previous reports that The Rock will miss WrestleMania 39 because he doesn't have time to train for an in-ring comeback, Triple H said:
"Apparently he can't get in shape in time. That's all you tell me (laughs). He looked well muscled, I thought. I saw Black Adam the other day and I didn't think it was the uniform.
He's incredibly busy. I can say this, as a guy that, we grew up like two kids fighting each other for the spot and fighting for it and, in the best way, pushing each other.
We all were at that time. I know, for him… I was at a big Emmy event a few years ago and there was a poster of him. I think he was about to throw the People's Elbow at me.
He was standing over me in this photo and it's an incredibly detailed hyperfocused image. As I looked at the photo, I noticed that he was standing on top of me with goosebumps.
I took a picture and sent it to him. I said, 'You don't get that in Hollywood, do you?' It's a rush, but after the 12th time you've done that scene, it's probably not as exciting as the first few years.
There's none of that, nothing. I know for him, and I know his family and background, there's a part of him that if he could be here for this and this WrestleMania in Hollywood, he would turn over every stone and walk through fire to be able to do this if he could.
I just don't think he's in the cards. Then again, I don't know. We always talk to him because he loves it so much and we would love for him to be a part of it.
He is Hollywood's biggest star and perhaps the best known person on the planet. Why don't we want him to be a part of it? This is his house. It's an open invitation.
We don't lock the door. He has an open invitation to accept whenever he wants, but he's incredibly busy. I think that respects both sides. He wouldn't want to do that unless he absolutely could do it.
There's no way he could show up here and ruin everything. There's no way he could show up here and not come in and want to put everything he had into making it the best it could be.
Unless he could do that, it's not going to happen. He knows the door is open and when he has the time and availability to do so, he can come in and electrify everyone".
The Men's Royal Rumble was eventually won by Cody Rhodes, who eliminated Gunther in the final moments of the match to get his ticket to WrestleMania 39.
To stay on top of everything that goes on in the world of Pro Wrestling, follow Wrestling Mania on social media and don't miss a thing. Twitter and Google News.