WWE NXT (05/23/2023) – Full Coverage and Results!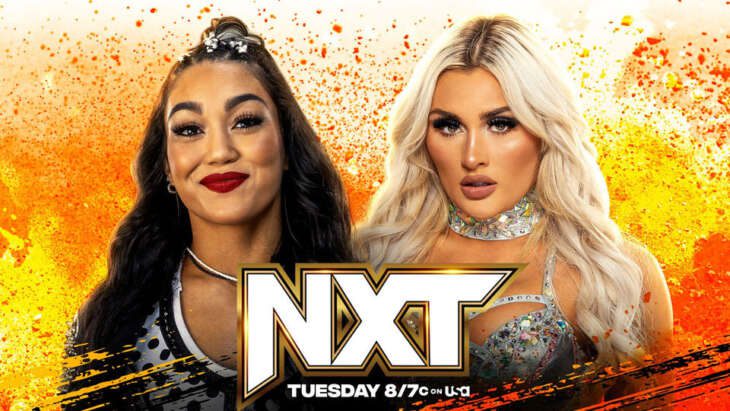 Heading to the Battleground, tonight WWE will host another episode of NXT Wrestling, directly from the Capitol Wrestling Center in Orlando, Florida.
The big highlight of the night goes to the semifinals of the tournament that will determine the new NXT Women's Champion. Plus we'll have Dabba-Kato vs. Axiom, Nathan Frazer v. Noam Dar, among other attractions.
See all this and much more today at 8 pm on Wrestling Mania's live coverage.
Coverage:
The opening moments feature video packages featuring Lyra Valkyria, Cora Jade, Tiffany Stratton, and Roxanne Perez, all expressing their ambitions to become the next NXT Women's Champion. Vic Joseph and Booker T are at ringside, ready to provide commentary and analysis.
Lyra Valkyria and Cora Jade make their entrances, generating excitement among the audience as they prepare to compete for the highly sought-after NXT Women's Championship.
NXT Women's Championship Tournament – Second Round: Cora Jade vs. Lyra Valkyria
– Valkyria landed a kick to Jade's head to win.
Following the match, Cora Jade launches a blindsided attack on Lyra Valkyria, viciously striking her knee with a kendo stick, leaving her vulnerable and in pain.
After the commercial break, an intense scene unfolds as Dijak arrives at the Performance Center. However, Ilja Dragunov ambushes him, forcefully striking him across the spine with a chair. Dragunov then attempts to trap Dijak under a garage door, but officials intervene before any further damage is done, diffusing the volatile situation.
Returning to ringside, Axiom makes his way down the ramp, ready for his next challenge. Shortly after, Dabba-Kato follows suit, signaling an impending clash between these formidable competitors.
Singles Match: Axiom vs. Dabba-Kato
– Dabba won after executing a 'double chokeslam'.
After the match, Dabba-Kato refuses to relent and continues his assault on Axiom. However, Reggie rushes to Axiom's aid, executing a timely move that sends Dabba-Kato tumbling to the outside. Reggie extends his hand to help Axiom up, but Axiom forcefully pushes him away, showing his independence. Despite Reggie's attempt to reconcile, Axiom adamantly refuses to shake his hand, making his stance clear.
The scene transitions to footage of Tony D'Angelo being questioned by authorities at the station following his recent detainment. An official interrogates D'Angelo, inquiring about his recurring involvement in investigations and mentioning a tip they received. Presenting a video of D'Angelo, he denies any association with the depicted events. Another official enters the room, informing the first official about new information that demands their attention.
Returning from the break, a video featuring Bron Breakker rolls, recapping the ongoing rivalry between himself, Carmelo Hayes, and Trick Williams. The recap sheds light on the recent developments and includes a direct message from Breakker to Hayes.
Back at ringside, the formidable Gallus makes their entrance, ready for their upcoming contest.
Joe Coffey expresses his admiration for the stacked lineup at Battleground, while Wolfgang shares his belief that The Family should have been contenders for the NXT Tag Team Championship. Joe then brings up Tony D'Angelo's detention, predicting a lengthy absence for him. Mark Coffey adds that The Creed Brothers failed to follow through on their promise to call out Gallus.
Just as the tension rises, The Creed Brothers' music hits, and Brutus and Julius make their entrance. Julius suggests that Gallus seems reluctant to face a challenge, but now that they've found them, they officially issue a challenge for the tag team titles at Battleground. Mark acknowledges their desire for another opportunity, but warns that Gallus is a force to be reckoned with. Julius confidently states that in their upcoming clash, the four teams will engage in a brutal fight, with only two emerging victorious—himself and his brother.
The two teams then engage in a fierce brawl, with Gallus gaining the upper hand. However, Channing "Stacks" Lorenzo appears, providing assistance to The Creed Brothers and evening the odds. Gallus is ultimately forced to retreat, unable to maintain their advantage.
Transitioning backstage, McKenzie Mitchell interviews Wes Lee about his friendship with Tyler Bate. Lee expresses his frustrations and contemplates distancing himself from others. Before further discussion can take place, Bate is brought into the conversation. Lee dismisses Bate's attempts to address the situation and walks away, leaving Bate to express that his pursuit of the North American Championship doesn't change his feelings toward Lee.
Returning to ringside, Eddy Thorpe makes his entrance, ready for his upcoming match.
Singles Match: Tyler Bate vs. Eddy Thorpe
– Tyler hits the 'Driver 97' for the win.
Following the match, Joe Gacy emerges and launches a brutal assault on Tyler Bate. Wes Lee enters the ring, intending to strike Gacy, but inadvertently hits Bate instead when Gacy evades the blow. Seizing the opportunity, Gacy delivers his devastating finisher, The Upside Down, to both men. As Ava observes from outside the ring, Gacy claims the North American Championship as his own.
Shifting backstage, Lyra Valkyria is interviewed by McKenzie Mitchell. Mitchell inquires about the status of Valkyria's knee, to which she responds that while further examination by the doctor is necessary, she doesn't believe it's torn and assures that she'll be ready for Battleground. Mitchell proceeds to ask Valkyria about her preference for the finals, and Valkyria reveals her desire to face Roxanne Perez, considering her to be the epitome of talent within NXT.
Returning from the commercial break, footage shows Tyler Bate assisting Wes Lee during the break. However, tensions escalate as Bate shoves Lee, prompting Lee to respond in kind before leaving the ring in anger.
Back at ringside, Noam Dar makes his entrance, followed by Nathan Frazer, signaling their upcoming matchup.
Singles Match: Nathan Frazer vs. Noam Dar
– Frazer won after hitting a 'Phoenix Splash' on Dar.
Moving backstage, McKenzie Mitchell conducts an interview with Ilja Dragunov in the locker room. However, the interview is abruptly interrupted as Dijak forcefully barges in, seeking Dragunov. The two immediately engage in a heated brawl, necessitating the intervention of other individuals present in the room to separate them and restore order.
Returning from the break, a video package showcases Carmelo Hayes' visit to his home state of Massachusetts, along with a compilation of his recent interviews, highlighting his growing presence and influence.
Back at ringside, Hank Walker and Tank Ledger make their entrance, prepared for their upcoming match.
Singles Match: Hank Walker vs. Tank Ledger
– Walker manages to pin Ledger for the win.
After the match, Hank Walker extends a helping hand to Tank Ledger, but their moment is abruptly interrupted by the unexpected arrival of Bron Breakker. Breakker swiftly takes down both men with a Spear, leaving them lying on the mat.
Transitioning backstage, Diamond Mine engages in a discussion among themselves. Channing "Stacks" Lorenzo enters the scene, and Julius expresses his gratitude to Stacks for providing assistance earlier. Stacks proposes a deal to be at ringside for extra backup at Battleground, but Julius is hesitant, citing past experiences of being betrayed. Stacks acknowledges the concern, and Julius offers The Family the first opportunity at the NXT Tag Team Championships once he and Brutus emerge victorious.
Returning from the break, Gigi Dolin makes her way to the ring, ready for her upcoming match.
Gigi Dolin steps into the ring and opens up about her past and the home she grew up in, expressing that she believed she had found a family when she joined NXT. She mentions feeling let down by Jacy Jayne, who cut her off despite Dolin's willingness to do anything for her.
Unexpectedly, Jacy Jayne appears in the crowd, interrupting Dolin's speech. Jayne dismisses Dolin's "emo talk" and recalls their time together in the crowd, referring to it as the peak of her career. Dolin questions why Jayne would throw everything away if it was so great, to which Jayne responds that she grew tired of carrying Dolin and asserts that everyone knew she was destined for greater things.
Dolin retorts, suggesting that Jayne's desire to move on stems from a fear of being remembered as the third wheel rather than pursuing bigger opportunities. Jayne reminds Dolin of her victory over her and the embarrassment she caused in front of Dolin's brother. Dolin fires back, highlighting that Jayne needed eight stitches to repair her face following their encounter. Dolin proposes settling their rivalry once and for all, citing their one win each, and suggests having a Steel Cage Match. Jayne eagerly accepts the challenge and ups the ante, proposing a Weaponized Steel Cage Match. Dolin stands her ground, emphasizing her authenticity and willingness to go to extreme lengths. The challenge is accepted, and the match is set for next week.
Returning from the break, Luca Crusifino makes his way to the ring, followed by Von Wagner and Mr. Stone.
Singles Match: Von Wagner (w/ Mr. Stone) vs. Luca Crusifino
– Crusifino won by disqualification.
Von Wagner continues his assault on Luca Crusifino outside the ring, relentlessly attacking him. Despite Mr. Stone's attempts to dissuade him, Wagner remains determined and powerbombs Crusifino onto the announce desk, inflicting further damage.
Transitioning to the previously shown footage, Tony D'Angelo finds himself being questioned by officials. As the interrogation unfolds, the officials enter the room and proceed to arrest D'Angelo, who vehemently protests against the arrest.
Returning to ringside, Tiffany Stratton makes her entrance, ready for her upcoming match.
NXT Women's Championship Tournament – Second Round: Roxanne Perez vs. Tiffany Stratton
– Stratton hit the 'Prettiest Moonsault Ever' to win.
Following the match, tensions escalate as Tiffany Stratton and Lyra Valkyria confront each other face-to-face. However, their altercation is interrupted by the sudden appearance of a hooded individual, who proceeds to brutally attack Roxanne Perez on the ramp.
As Dijak's music hits, he makes his way down to the ring. Ilja Dragunov blindsides Dijak, launching a relentless assault. Despite Dragunov's onslaught, Dijak manages to fight back, sending Dragunov crashing into the ring steps and over the barricade. Seizing the opportunity, Dijak grabs the contract and swiftly signs it. As two security guards intervene, Dijak takes them both down. Dragunov retaliates by slamming Dijak face-first into the barricade, followed by a series of chops. Dragunov then signs the contract and attempts to continue his attack on Dijak. More security personnel rush to the scene, but Dragunov takes them down as well. Dijak retaliates by grabbing the ring steps, but Dragunov wrestles them away before delivering a powerful right hand.
The intense confrontation between Dijak and Dragunov escalates, with both competitors displaying their determination and aggression.
End of show!
To stay on top of everything that goes on in the world of Pro Wrestling, follow Wrestling Mania on social media and don't miss a thing. Twitter and Google News.