WWE RAW (05/08/2023) – Full Coverage and Results!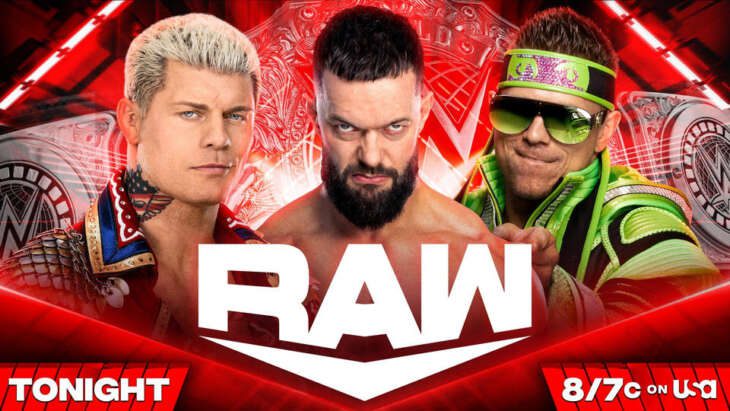 Heading into Night of Champions, tonight WWE will host another live episode of Monday Night RAW from the VyStar Veterans Memorial Arena in Jacksonville, Florida.
Two triple fights will start the tournament for the World Heavyweight Championship, where the winners of them will face each other in the main event today, awaiting the member of SmackDown who will make the grand finale in Saudi Arabia, on May 27th.
See all of this and more today starting at 8 pm on Wrestling Mania's live coverage.
Live coverage:
Tonight's show begins with a promotional video about the 12 participants in the tournament that will determine the new World Heavyweight Champion. The music of Cody Rhodes plays, and "American Nightmare" makes its entrance.
Rhodes enters the ring as a brief recap of his match against Brock Lesnar at WWE Backlash is shown. "So, Jacksonville… what do you want to talk about?" Rhodes starts his promo. The fighter remembers that he spent most of the COVID-19 pandemic there, where he created memories. That's why he sets out to create new ones tonight.
Rhodes remembers that at Backlash he beat Lesnar. With that issue resolved, it's time to move on to your next objective: the World Heavyweight Championship. Rhodes leaves the ring and heads towards the entrance ramp, where he observes the new belt. Rhodes guarantees that the title will be his. The audience screams "You deserve it!".
Rhodes officially opens the tournament and Seth Rollins makes his entrance. "The Visionary" and "The American Nightmare" face each other as the audience sings Rollins' theme. He laughs and goes to the ring.
World Heavyweight Championship Tournament – First Round Match: Seth Rollins vs. Damian Priest vs. Shinsuke Nakamura
– Rollins lands a "Pedigree" on Nakamura, followed by a pinfall.
"The Imperium has arrived," announces Ludwig Kaiser as he walks backstage with Giovanni Vinci. Europeans point out that Gunther will be present on next week's RAW. Kaiser and Vinci meet with Kevin Owens and Sami Zayn. They point out that they're on a personal matter, then ask them to come back in a few minutes if they want to talk about something. Kaiser and Vinci refuse to leave, assuring Gunther will not tolerate such disrespect. Zayn proposes a fight tonight as a show of his respect for the Imperium.
Singles Match: Otis w/ Chad Gable and Maxxine Dupri vs. mustafa ali
– Ali applies a "450 Splash" on Otis, followed by a pinfall.
Backstage, The Miz guarantees that he will win the following match, becoming the new World Heavyweight Champion at Night of Champions.
World Heavyweight Championship Tournament – First Round Match: Cody Rhodes vs. Finn Balor vs. The Miz
– Bálor lands a "Côupe de Grace" on Miz, followed by a pinfall.
Rhodes was about to count on Miz, winning the fight, however, Brock Lesnar appears and surprisingly pulls him out of the ring, applying an "F5".
Lesnar hits a new "F5" on Rhodes, who ends up going through the commentator's table. Lesnar grabs a microphone and asks Rhodes what he wants to talk about. "Look at my face!" he yells at Rhodes while showing his face state. "I want to talk about me, about me, about me, about me!" He yells the "heel "Beast" while holding Rhodes' head. "I want a fight, you and me at Night of Champions! Who's the coward now!?" Lesnar concludes before heading backstage.
Several officials come out to help Rhodes as Lesnar looks at the World Heavyweight Championship, before leaving.
Backstage, Cody Rhodes is seen limping along, assisted by some officers.
Singles – Non Title Match: SmackDown Women's Champion Rhea Ripley w/ Dominik Mysterio vs. Dana Brooke
– Ripley wins via submission.
Ripley catches Brooke and performs a second "Riptide" before reapplying her painful submission hold. Natalya makes her entrance and steps into the ring. Ripley releases Brooke and confronts Natalya. Dominik approaches Ripley and advises her to leave the ring. Ripley smiles and chooses to follow Dominik's advice. The two exit the ring as Natalya and Ripley continue to stare each other down.
Byron Saxton interviews Zoey Stark, who claims to be the best. Something catches her eye: Nikki Cross, who looks completely oblivious. Stark proposes a fight for tonight. "I like to gamble," Cross replies.
Tag Team – Non Title Match: Undisputed WWE Tag Team Champions Kevin Owens and Sami Zayn vs. The Imperium (Giovanni Vinci and Ludwig Kaiser)
– Zayn lands a "Helluva Kick" on Vinci, followed by a pinfall.
Backstage, Sonya Deville and Chelsea Green are seeking signatures on a petition to give them another shot at the WWE Women's Tag Team Championship. They find The Way (Johnny Gargano, Candice LeRae, Indi Hartwell and Dexer Lumis) and ask everyone to sign. Lumis gives a negative sign and Hartwell says it's not a good idea. Green and Deville storm out, while the quartet continues talking.
We now see a video of Backlash, when The Bloodline, despite disagreements, defeat Matt Riddle, Kevin Owens and Sami Zayn. On the next Friday Night SmackDown, Roman Reigns will make his return.
Singles Match: Zoey Stark vs. Nikki Cross
– Stark hits a "GTS" on Cross, followed by a pinfall.
Backstage, Rhea Ripley was with Dominik to give an interview to Byron Saxton, however, Xavier Woods and Akira Tozawa interrupt them with their loud laughter. Dominik gets angry and swears at Woods and Tozawa. Woods mocks Dominik's outfit. Dominik says he'll be happy to bust Woods tonight. Woods asks for a match and Ripley says Dominik accepts.
Trish Stratus delivers several flyers backstage, about Becky Lynch being missing, as well as her outfit.
The music of Trish Stratus plays, and the WWE Hall of Famer makes her entrance to the ring, to much booing. Stratus asks everyone where Becky Lynch is. Stratus says she's missing, but maybe he knows where everyone can find her, maybe somewhere in Iowa, crying along with her daughter. Plays Lynch's music.
Stratus bursts out laughing, calling everyone idiots for having been tricked. Stratus says that Lynch will never come back. Stratus would tell a story about his daughter's doll, which would be called Becky, however, the song "The Man" plays again.
Suddenly, Lynch appears behind Stratus. Lynch lands three punches on Stratus, before sending her out of the ring with a "Slam".
Cody Rhodes has an ice pack on his ribs backstage, along with Sami Zay, Kevin Owens and Adam Pearce. Owens and Zayn question whether Pearce will let this matter go or resolve it.
Singles Match: Xavier Woods vs. Dominik Mysterio w/ SmackDown Women's Champion Rhea Ripley
– Dominik does the "Roll-Up" on Woods, winning the match.
Backstage, we see Finn Bálor and Seth Rollins preparing for the first semifinal of the World Heavyweight Championship tournament, which will take place next.
The Miz approaches Shinsuke Nakamura, again offering to become his tag team. Nakamura overhears everything, but ultimately says he'd rather face Miz next week.
Sonya Deville and Chelsea Green meet Raquel Rodriguez and Liv Morgan. The champions sign Green and Deville's petition, stating that after running down Damage CTRL on SmackDown, they will be next. Green and Deville laugh and say that the fight for the titles will not be against them, but against Damage CTRL, who will win on Friday.
Backstage, a visibly angry Cody Rhodes accepts Brock Lesnar's challenge to a match at WWE Night of Champions.
World Heavyweight Championship Tournament – Semifinal Match: Seth Rollins vs. Finn Bálor
– Rollins hits Bálor with a "Stomp", followed by a pinfall.
End of show.
To stay on top of everything that goes on in the world of Pro Wrestling, follow Wrestling Mania on social media and don't miss a thing. Twitter and Google News.